No matter how strongly I deny it or wish it weren't so, summer is still three fast weeks away [cries into hands]. I have no plan, I have no nanny, and I certainly don't have the six figure income it takes to send three kids to camp simultaneously for even one week. I do, however, have books…
READ ALOUDS 
8 Class Pets + 1 Squirrel/1 Dog = Chaos by Vivian Vande Velde (June)
My Side of the Mountain by Jean Craighead George (July/August)
DEVOTIONS
Heart of a Competitor & Heart of an Athlete from Fellowship of Christian Athletes
Thoughts to Make Your Heart Sing by Sally Llyod-Jones
WORKBOOKS
I'm hoping these will help keep summer brain rot at bay, and I love that they include a fitness assignment each day.
Summer Fit by Kelly Terrill
LANDON & EVAN
One of the perks of having boys only 13-months apart is that by the time they reach upper elementary school (now entering 4th and entering 5th), they can share the same summer reading list. They will read more than this (because I'll be paying them to duh), but these are their required reads that I vetted through other mom's blogs and Common Sense Media. All of these are available at the the library and, as you can see, we're keeping it light and fun this year. Also, I'm not even making a list for Selah (entering second grade). There are plenty of  early-reader books at the library to keep her engaged, including all her favorites from Mo Willems.
If you are looking for more suggestions for younger kids, you can view my lists from previous years right here.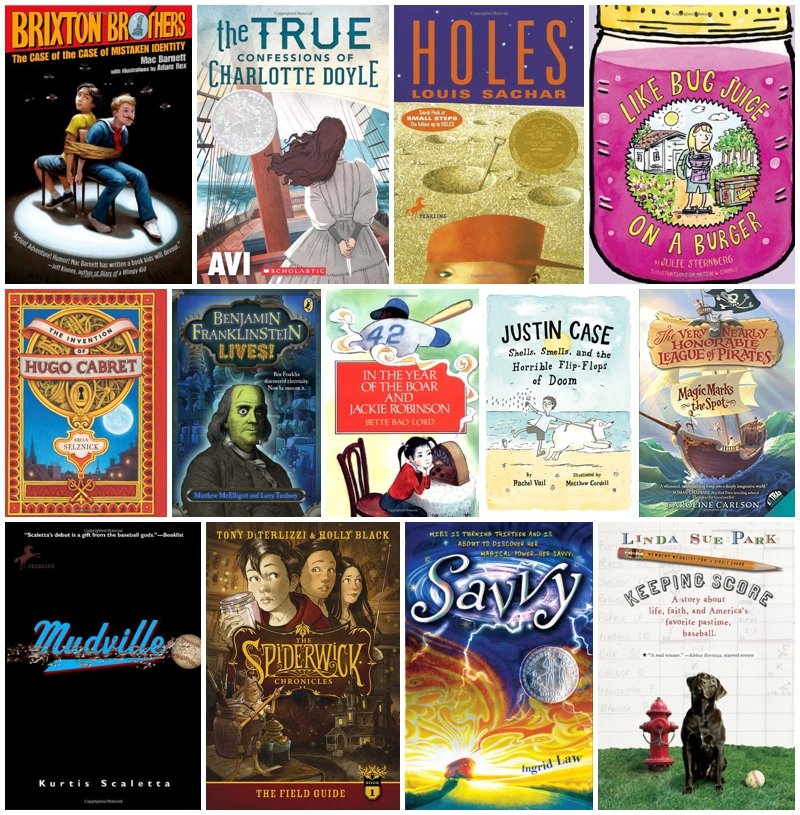 Keeping Score by Linda Sue Park
Savvy by Ingrid Law
The Invention of Hugo Cabret by Brian Selznick
The Case of the Case of Mistaken Identity by Mac Barnett
The True Confessions of Charlotte Doyle by Avi
Justin Case: Shells, Smells, and the Horrible Flip-Flops of Doom by Rachel Vail
Benjamin Franklinstein Lives by Matthew McElligott
Mudville by Kurtis Scaletta
Like Bug Juice on a Burger by Julie Sternberg
Children of the Red King #1: Midnight for Charlie Bone by Jenny Nimmo
In the Year of the Boar and Jackie Robinson by Bette Bao Lord
The Spiderwick Chronicles by Tony DiTerlizzi
Magic Marks the Spot by Caroline Carlson
Holes by Louis Sachar
MY LIST
Animal, Vegetable, Miracle by Barbara Kingsolver
The Antelope in the Living Room by Melanie Shankle
Life in Motion: An Unlikely Ballerina by Misty Copeland
Cutting for Stone by Abraham Verghese
The Sea of Tranquility by Katia Millay
Secrets of a Charmed Life by Susan Meissner
Learning to Walk in the Dark by Barbara Brown Taylor
Wearing God by Lauren Winner
Duties of Parents by J.C. Ryle
Walking on Water: Reflections on Faith and Art by Madeleine L'Engle